Get Active
Exmouth Cycle Hire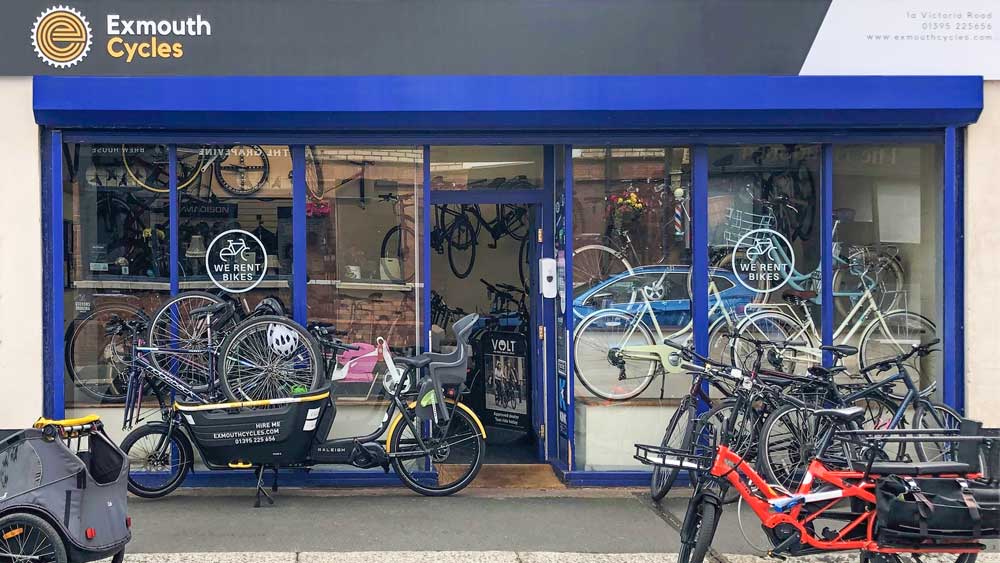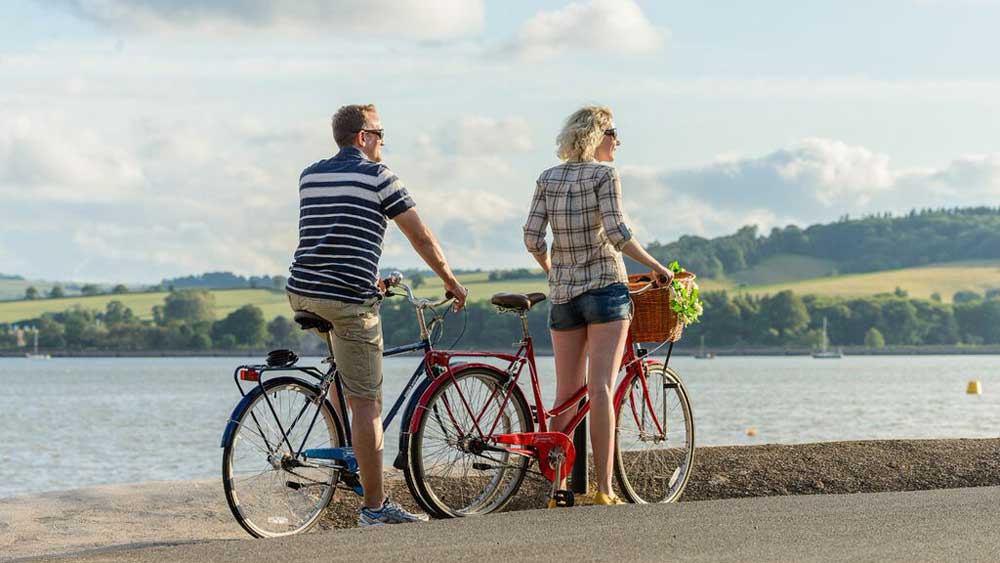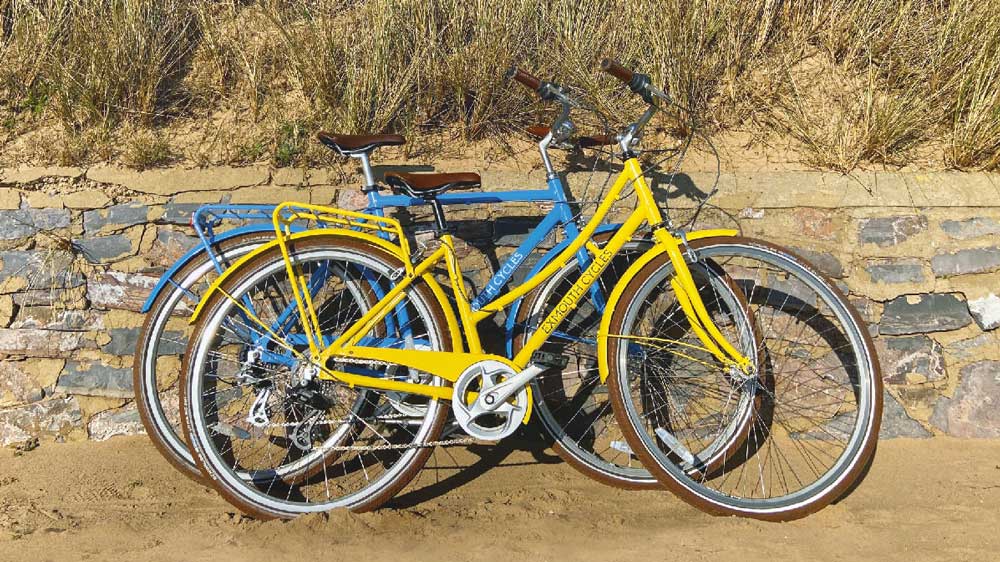 We are an independent bike shop based off The Strand in the centre of Exmouth, offering bicycle and equipment hire for all the family.
We have a large selection of bikes for hire including hybrids, and traditional bikes. We have bikes for kids, child seats, tag alongs and trailers. And, new for the season, we have two ECargo bikes for hire! Our shop is run by a small team of dedicated staff who can offer advice on local trails and adventures.
Get in touch today or pop in and see us for more information and to book your bike! You'll find us on Victoria Road, opposite The Grapevine Brewhouse.
Exmouth Cycle Hire is part of Exmouth Cycles where you will find all things bike and much more!
Eat | Sleep | Ride | Repeat


Exmouth Cycles, 1a Victoria Road,
Exmouth, Devon EX8 1DL
Telephone: 01395 22 56 56
Email: info@exmouthcycles.com
Visit the website for info and booking:
Exmouth Cycle Hire
Edge Watersports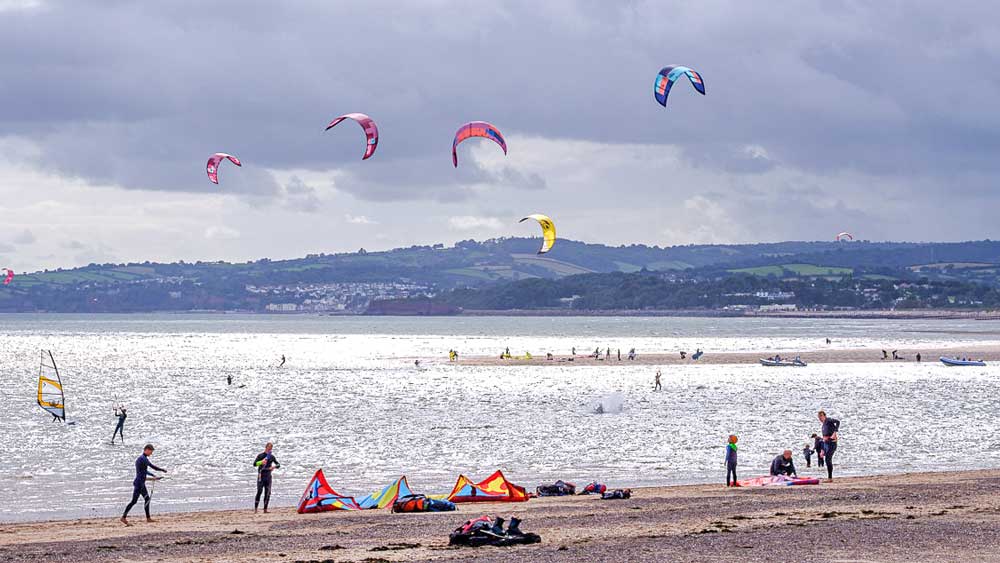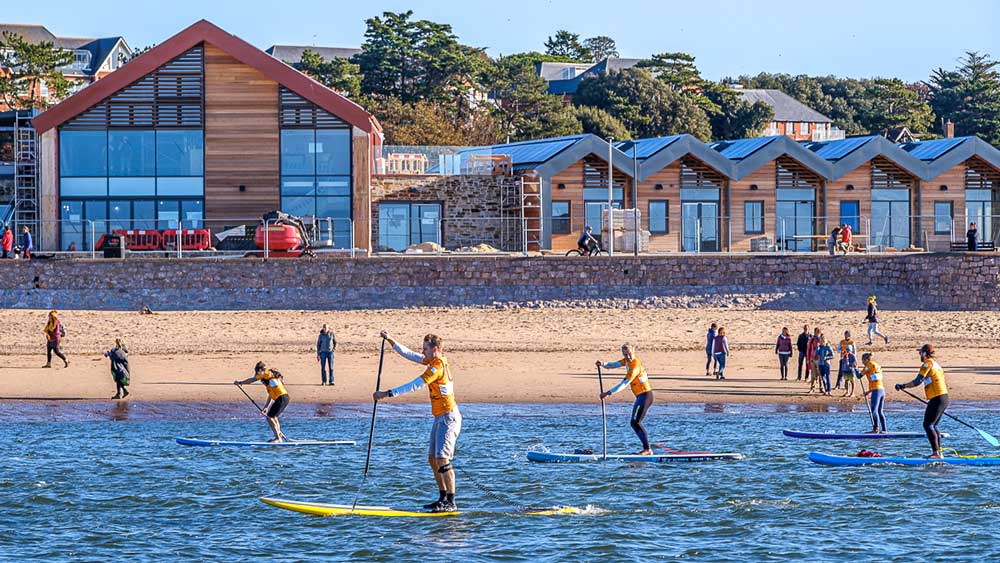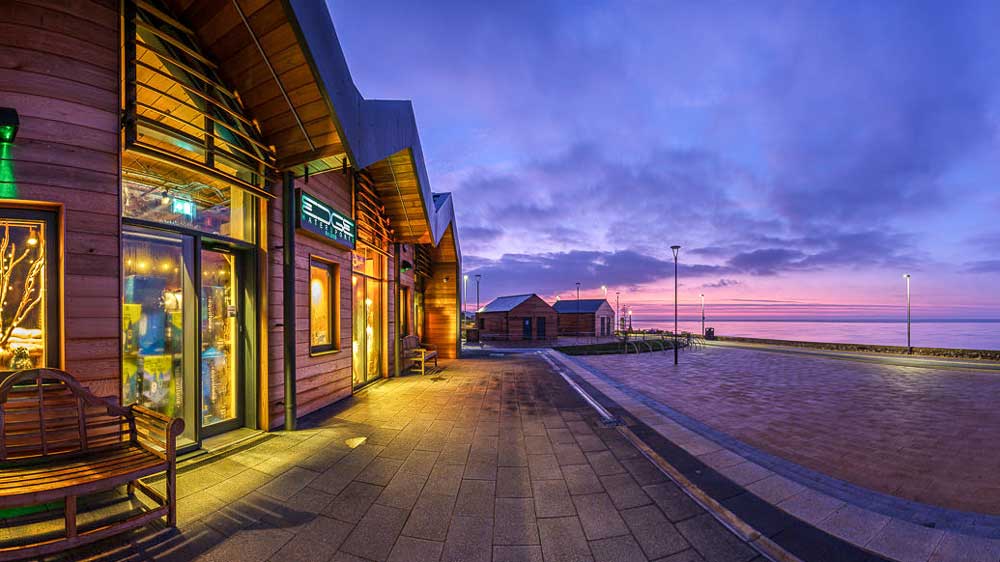 With two miles of golden sand and a southwest facing shoreline, Exmouth is ideal for learning and participating in a wide range of watersports and wellness activities.
Edge Watersports at Sideshore offer lessons and kit hire for everything from power kiting to SUP and beach yoga.
Owned by Steph & Eric Bridge who have a combined 50 years experience of teaching watersports in Exmouth.
Edge watersports provides top quality tuition, sales and club membership from their brand new watersports centre on Exmouth Seafront. Embrace a new sport or simply get some advice from one of the world's most famous kitesurfing families - Team Bridge.
Visit Sideshore for activities, food, showers and facilities – all you're going to need for a great day out at the beach.

RYA/BKSA/BSUPA Accredited Watersports Centre.
Edge Watersports - Sideshore, Queen's Drive,
Exmouth, Devon, EX8 2GD
Telephone: 01395 222 551
Mobile: 07887 882866
Email: info@edgewatersports.com
Shop Hours: Monday-Sunday 09.30-17.30
Visit the website for info and booking:
Edge Watersports
Walking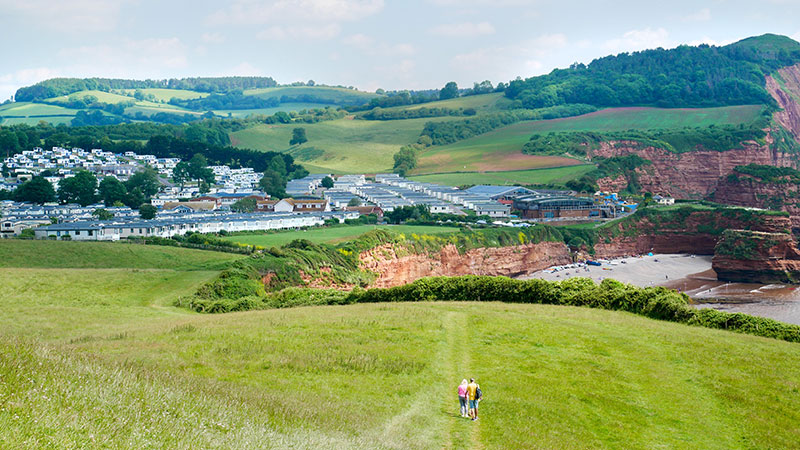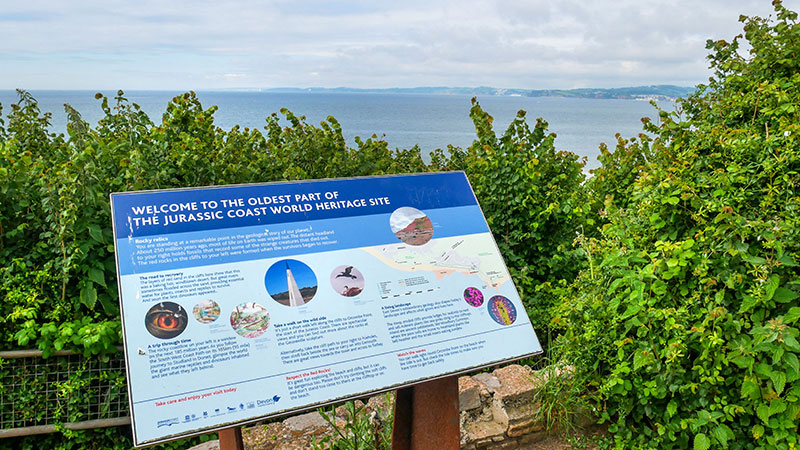 Due to the huge popularity of walking routes in East Devon, The Ramblers and East Devon District Council have partnered up to create these new routes for you to enjoy:
www.eastdevonaonb.org.uk
Check out some fantastic walks and rambles available in the East Devon surrounding areas, explore the stunning beauty and the quaint shops.
Check out www.ramblers.org.uk for some great routes.
Fishing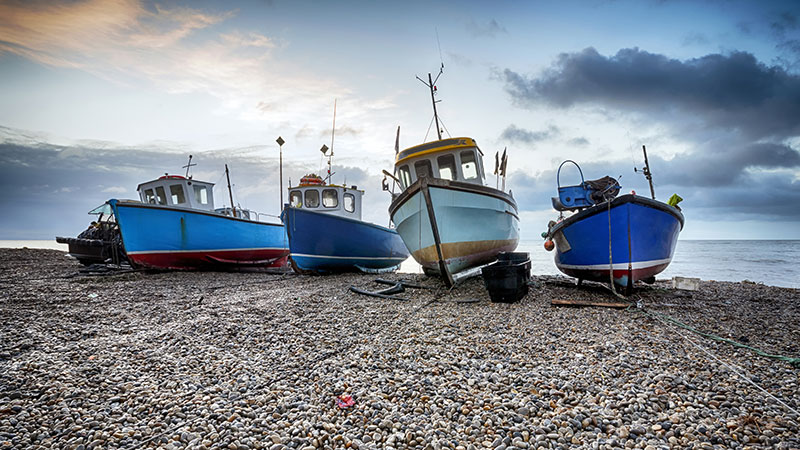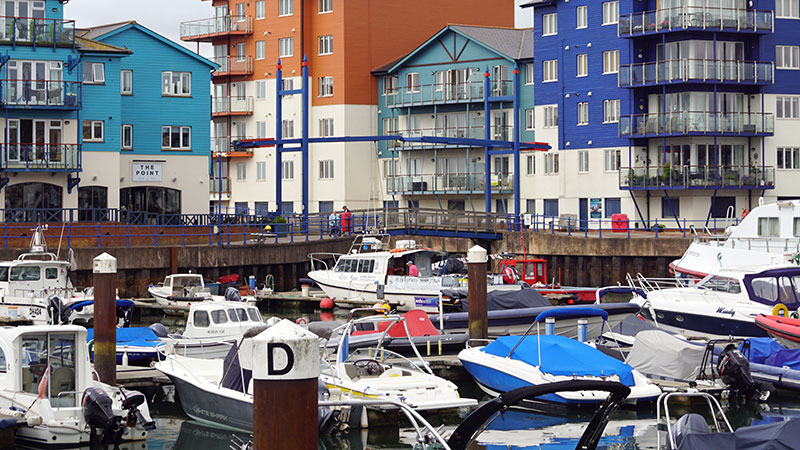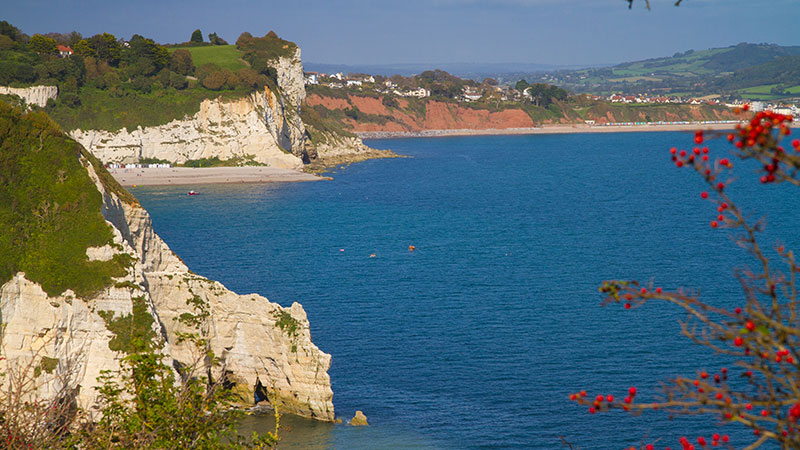 Hire a boat
Boats can be hired all-round the coast, but nowhere can mackerel hunting be enjoyed quite as effortlessly as from the lovely old fishing village of Beer in East Devon.
Located in a gorgeous cove on the Jurassic Coast, you can wander down the slipway and hire a small motor boat kitted out with rods and hand reels. The charter will give you a few tips and off you go – trawl with the handlines out, cast a line, or simply bob around in Lyme Bay, soaking up the sun and the unique scenery. Keep your catch and cook it up at home.
www.visitengland.com/experience/mackerel-fishing-beer
Deep sea fishing
If small-craft and rock angling doesn't float your boat, try some deep-water sea fishing with various charters, who are happy to take groups up to 20 miles off shore from the Devon coast.
You can try your hand at everything from reef to wreck fishing, and species you can expect to hook include bass, cod, pollock, ray, sole, plaice, conger eel, mackerel and shark.
Should you be so lucky to catch a shark, they are tagged and returned to the wild, but you can take the rest home and cook them.
www.tigercharters.co.uk
www.exefishing.co.uk
Exploring
The Jurassic coast runs for 95 miles from East Devon to Dorset and across the coastline are stunning cliffs, impressive arches and sea stacks.
Both Devon Cliffs and Ladram Bay are perfectly placed to start your exploration of beautiful South Devon as they both have the famous South West Coast Path. Originally created by coastguards, patrolling the peninsula looking out for smugglers! The East Devon section spans approximately 26 miles, and runs from Exmouth to Lyme Regis, forming part of the Jurassic Coast World Heritage Site. There are a multitude of quaint villages and hidden hamlets to find or you could try your hand at fossil hunting!
The coastline provides visitors of all ages with an interesting and spectacular geological walk through history spanning the Triassic, Jurassic and Cretaceous periods, and with rocks recording 185 million years of the Earth's history, it is something that needs to be seen and experienced.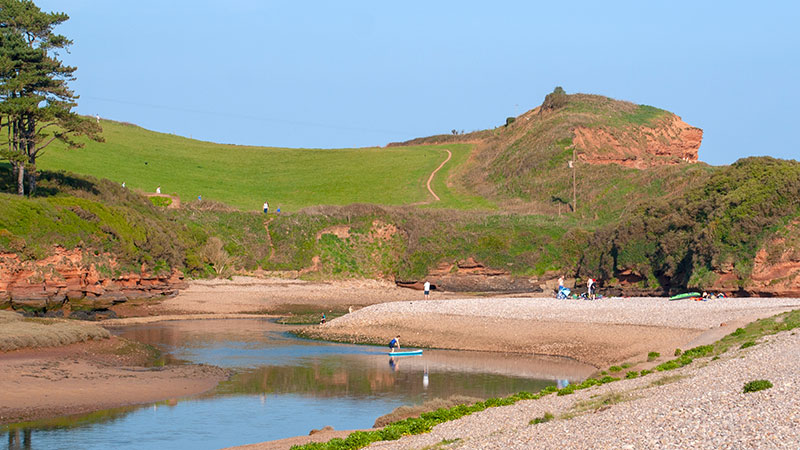 Birdwatching
The Exe estuary supports a wealth of habitats and if you are a birdwatcher then you will not be disappointed. The area is a traditional stopping point for migratory birds, including Avocets, Curlews, Lapwings, and Brent Geese. So pack your binoculars and see which birds you can spot.